Loan Officers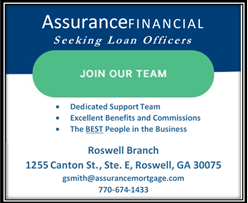 Assurance Financial is opening a new branch on Canton Street in Roswell and is seeking quality people who may be looking to become a loan officer, or are currently a loan officer.
Assurance Financial is a correspondent lender with a friendly and expert team of underwriters, processors and closers.
Every year we are voted a best place to work.
Loan officers working out of the Roswell Branch can expect competitive commissions; processing and marketing support that utilizes the best technology in the industry; a commitment to excellence; and a fun and nurturing environment to grow, develop and maintain their business.
If interested, please call or e-mail Geoff Smith, Branch Manager at 678-779-5066 gsmith@assurancemortgage.com